A Traeger consists of a wood pellet grill. Inside, we draw the pellets from the side mountain hopper inside a central burning chamber with an auger's help. Then we use a hot metal rod for igniting it. Those mechanisms tend to operate on electricity, which requires you to plug it in.
A Traeger provides precise control of digital temperature incorporated with the meat thermometers. If you want to operate it, you need to fill the hopper with the pellets.
Now you need to turn it on and start dialling in the temperature of your choice.
It can be anything from smoke up to 450⁰F. If you're planning to purchase one, you need to be clear on certain things such as the line-up, pros/cons, specifications, etc. At present, the line-up of Traeger pellet grills consists of Traeger Pro Series, Traeger Timberline Series, Traeger Ironwood Series, and Traeger Tailgater. Both beginners and seasoned users can use any of the Traeger models. But today, I'll be doing a comparative study between the Trager Timberline and Pro Series.
Understanding Traeger Timberline and Pro Series
The Traeger Timberline Series is the largest and costliest option from the line-up. You have the chance to pick between the 850 or 1300 models. Both the models come equipped with a large space measurement of cooking space. With these models, you'll receive all the features present in the Ironwood series. Also, the pellet sensing tech for monitoring the pellet levels via the app will be available.
The Traeger Pro Series, on the other hand, is a popular option from the mid-line range. You can expect models like the 575 and 780 in this line. It includes a Wi-Fi connection for the Traeger app on all the 2019 models. Both the series come with two grilling sizes, I.e., small and large. The smaller ones are less expensive compared to the larger ones in both lines. Both the Traegers work the same by using electricity for burning entirely natural 100% food-grade wood pellets.
There isn't any involvement of charcoal, propane, or natural gas. You'll just require wood pellets from Traeger and an electrical outlet. Unlike the majority of the conventional grillers, Traegers tend to utilize indirect heat for cooking food. Direct heating and flame-to-food types of cooking aren't present here. With a simple dial and button push, the wood pellet hopper tends to feed an internal auger, which channels the pellets inside a fire pit in the grill's bottom middle.
Its fire pit comes equipped with a small fan and a heating rod. Once the pellets start getting hotter from the rod, its fan introduces oxygen, causing pellets' combustion. The fire pit also has a heating baffle on top for deflecting the heat. It pushes the heat towards the grill's edges. A grease pan captures any drippings from the food and directs it inside a bucket or pan.
You can think of a Traeger by picturing it as an outdoorsy convection oven that supports smoking, baking, grilling, and roasting. So, you can already see how versatile the Traeger can get. For me, it's one of the friendliest and effective grills that I have ever cooked with. But Hey! Taste and need differ between users, but I have a positive feeling that it'll work just fine for you as well.
Traeger Timberline VS Pro Series
Traeger Timberline Series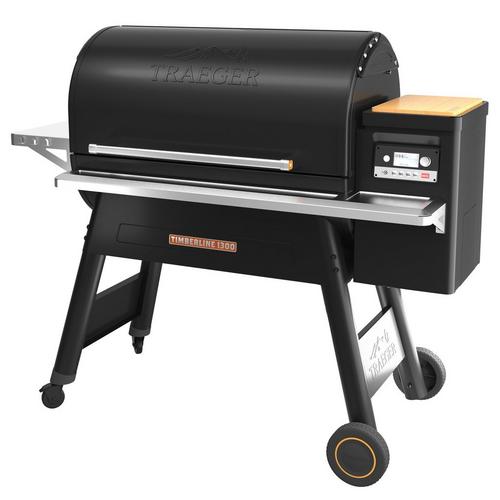 There are two models when it comes to the timberline series, i.e., the 850 and 1300. The primary cooking grate of the 850 model spans 22 x 16 inches, with a secondary cooking grate of 22 x 14 inches. The 1300 model sports a primary cooking grate of 34 x 16 inches and a secondary cooking grate of 34 x 14 inches. You can quickly cook eight and fifteen racks of ribs on the 850 and 1300 models, respectively. Also, it can hold pellets up to 24 pounds.
The Timberline series is expensive because it's one of the fully-loaded models from Traeger. The timberline grillers are quite similar to the ironwood series in features. It comes with a grill door and double-wall back panel of aluminized steel for improved insulation. There is also a gasket running around the grill door's edges for keeping the heat in. One feature that makes it a great buy would be its stainless-steel grates. Why? Because it lasts longer compared to the porcelain ones in the pro series.
Also, steel is better in heat conduction, which means it gets hot faster than porcelain ones. You'll also enjoy searing with it, but one downfall with this series is its food-sticking nature. So, I advise you to apply some oil before you start placing your food. But remember that Traeger tends to sell distinct individual grates, which includes the cast-iron ones. Here, you can swap out one with the right dimensions and size for your grill.
The timberline models possess an oval-shape and are a bit taller compared to the Ironwood and pro series. The increased height allows the inclusion of a 3rd shelf, which you can find in models like Timberline 1300 and Timberline 850. The internal grease management in timberline is better compared to the Ironwood and pro series. Here, the grease travels to the grill's front, inside a trough that runs straight towards the grill's left side, and down in a grease trap present in the base of the barrel.
You'll also find a pellet sensor in the timberline grillers. It helps in alerting users when running low on pellets. You may think of it as an insignificant feature, but I don't. There have been many times when I ran out of pellets in the middle of cooking my favorite proteins. This feature comes in quite handy, especially when you're cooking sensitive foods such as brisket. Plus, there is a cutting board of magnetic bamboo and a steel front shelf. In all honesty, the front shelf can be a little bit narrow for practicality.
Traeger Pro Series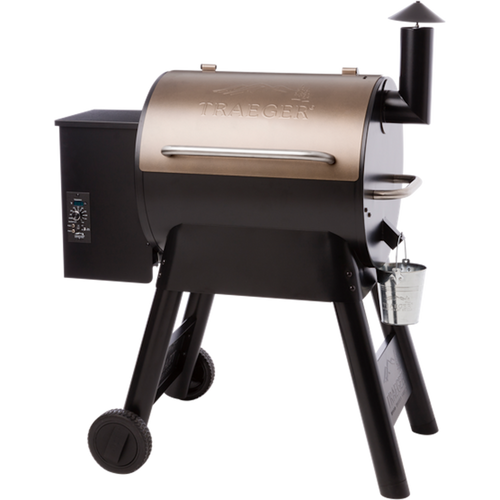 The Pro Series consists of the base model grill, and it's available in two sizes, I.e., the 575 and 780 models. You can support five and six racks of ribs on the 575 and 780 models with the grilling capacity, respectively. The 575 model has a primary cooking grate of 22 x 19 inches and a secondary cooking grate of 22 x 7 inches. The 780 model features a primary cooking grate of 30 x 19 inches and a secondary cooking grate of 30 x 7 inches.
All thanks to 2019's complete product overhaul, the Pro Series from Traeger are better than ever. The standard models come equipped with WiFire technology. It enables you to have full control over your griller via your phone with the Traeger app. The pro series models also feature porcelain grates with non-stick coatings. The pro series also comes with a brand-new D2 Direct Drive drivetrain that enhances control speeds of temperature and start-ups lagging before.
There was also a new software update in 2020, which allows all the grills from the pro series in churning out a temperature of 500⁰F maximum. I can confirm this with my Pro780 that went up to 506⁰F once on a hot summer day. I was able to sear all my protein with perfect ease and heating capabilities. The pro series can easily hold pellets weighing up to 18 pounds. If you're someone that doesn't crave all the extra whistles and bells, then the pro series just might be for you.
You have to realize that the pro series is the most affordable one compared to the timberline and ironwood lines. Here, the timberline one takes the lead in higher pricing, with the Ironwood finding an in-between. If you're on a budget, then the pro series is a smarter choice. When you're buying one, make sure to purchase the newer models from 2019. Why? Well, because it features the latest features, designs, and updates as well.
Both the Timberline and Pro Series are excellent line-ups from the Traeger series. The choice ultimately boils down to your requirements: your budget and the number of mouths you want to feed play a role. Regardless of whether you're trying to smoke ribs, pork shoulder, briskets, chicken breasts, etc., any of the Traeger timberline and pro series will carry out the job for you. Also, while you're at it, you could try getting some Traeger Grills PEL308 Hardwood Pellets and Traeger Grills SPC178 Blackened Saskatchewan Dry Rub to spice up your grilling experience.